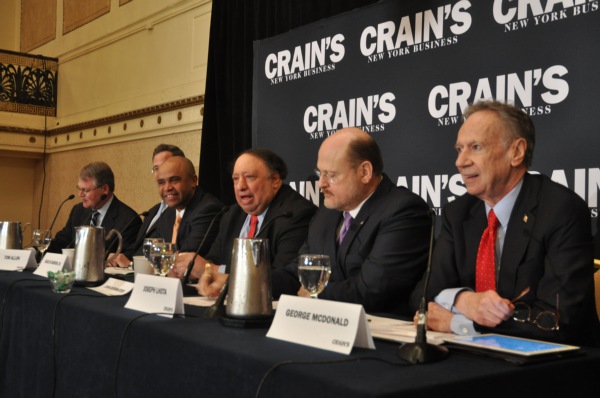 NEW YORK — Five mayor hopefuls contending for the Republican nomination debated critical issues facing the city including paid sick leave and income inequality — as well as the legacy of Rudy Giuliani — at a forum yesterday.
Each of the candidates labored to distinguish themselves while also promoting their appeal to party stalwarts as well as the overwhelmingly Democratic electorate of the city.
The participants in what was billed as the first Republican-only debate included Joe Lhota, the former Metropolitan Transportation Authority chief; Tom Allon, owner of Manhattan Media; former Bronx Borough President Adolfo Carrion; supermarket magnate John Catsimatidis; and George McDonald, founder of the Doe Fund.
The event was hosted by Crain's New York Business, and moderated by Greg David, a columnist for the publication.
At one point, David referred to Giuliani as a "jerk." Lhota, who served as a deputy mayor under Giuliani, took umbrage with the comment, pointing out that Giuliani had elected at a time when the city was called "ungovernable" and "unmanageable."
After the event, he told reporters: "Using a pejorative to describe Rudy Giuliani in a forum like this is unfortunate."
Much of the debate, though, focused on economic issues including raising the minimum wage, the paid-sick leave bill that has been stalled in the Council and income inequality.
Lhota said he didn't think it's the job of city government to legislate a living wage or paid sick leave at a debate yesterday.
"Our children need to be properly trained so they can work in a global economy and pull themselves up the way we have done," he said. "It's not the role of the city government to determine that all private business should have an HR policy and that it should be determined by the City Council."
And he didn't think inequality in New York was noteworthy. "New York is not any different or any worse in inequality than what's happening in the United States of America," he said.
Carrion, who is technically unaffiliated with the Republican Party but has been promoting himself to their leadership as an independent-minded alternative to the current crop of contenders, said inequality was the result of "a failed education system."
Allon and Catsimatidis both proposed a tiered minimum wage, with workers 23 and under earning the current minimum wage of $7.25 an hour, and a higher wage for workers 24 and up.
For Carrion, a minimum wage requirement is not a solution.
"The living wage bill became a killer for the Kingsbridge Armory," he said, referring to the plan to turn the long-empty Bronx armory into a mall, which failed after developers refused to agree to a minimum wage requirement of $10 an hour.
He seemingly reversed himself later in the debate when talking about renegotiating contracts for city workers, which expired in 2010.
"We have to index raises and benefits packages to the cost of living," he said. "You can't have a city workforce that can't afford to live here."
McDonald drew on his experience as founder of the Doe Fund, which provides job training for the formerly homeless and incarcerated, to argue against raising the minimum wage and mandating a paid sick leave policy.
"If the minimum wage were $50 an hour it wouldn't make a bit of difference to a man or woman who doesn't have a job," he said. "At the Doe Fund, we've always paid above minimum wage, and our graduates get jobs that pay over $11 an hour. Why do we need government to create an artificial wage?"
All the candidates agreed that the next mayor will need to fix the city's education system.
Lhota, who left his job running the MTA to run for mayor, noted that the city's education budget doubled in 10 years with little improvement in test scores.
Allon called for better teacher training and retention. "Fifty percent of teachers leave within five years," he said. "We are committing educational malpractice by allowing our teachers to leave so quickly."
Catsimatidis proposed vocational training for high-school students.
New York City property taxes drew universal condemnation.
Lhota said the biggest problem with the current tax system is lack of transparency.
"No one has any idea as to how the assessments are being done," he said. "The Department of Finance is told how much they have to generate by the Office of Management and Budget, and then they back into the number."
Allon and Carrion suggested that tax assessments were unfair to outer-borough property owners, but stopped short of calling for higher taxes.
"It's not fair that people living in buildings on Park Avenue pay less than people in outer boroughs," said Allon.
Carrion, who has a home on City Island in the Bronx, said his parents' property taxes on their Rockland County home are six times his.
In closing, the moderator asked each candidate to explain his Republican credentials, but referred to former Mayor Giuliani as a "jerk." In response, the candidates took turns praising Giuliani's legacy.
Lhota said his experience in the private and public sector gave him an ideal background to build on "the transformation of New York City that started with Rudy Giuliani."
"We need to be fiscally conservative, we need to try new ideas, we need to be socially progressive," said Lhota. "It's out of sync with the national Republican Party, but after all, we are New York City. We are always leading the charge forward."
Allon, who changed his affiliation from Democrat to Republican in October 2012, touted his appeal as a "fusion candidate." Allon, who has been endorsed by the Liberal Party, said Giuliani's 1993 victory margin came from Liberal Party voters.
But he was not the only candidate promoting crossover appeal.
Catsimatidis also said he could appeal to constituencies from both parties, saying "a pure Republican cannot win in this city."
"I'm probably one of the only candidates running for mayor that can sit down, put my arm around both sides and make a deal, he said."
Carrion, who is running with the backing of the Independence Party which helped Michael Bloomberg to victory in the last election, said he was frustrated by the partisan gridlock on the federal and state level, and that his ideas square with the Republican platform.
"I am a social progressive, which makes a northeastern Republican. And I'm a fiscal conservative, which makes me a northeastern Republican," Carrion said.
In an audience poll, 63 percent said Lhota would be most likely to win a general election. Catsimatidis came in second with 20 percent, and McDonald with 10.